CUSTOMER GALLERY
The Bath Caddy
The Bath Caddy was a commission with the combination of wood and resin colours chosen by the customer.
The customer selected a beautiful piece of pippy oak with some really nice features. Johnathan kept the natural shape of the tree to keep the lovely unique feel of the slab.
The next step was to extra detail and interest using the fractal burning method which was then filled in with ochre coloured resin. The caddy was finished with Kauri Kapia's very own board butter made from local bees wax from less than 5 miles down the road.
Thank you for sharing your work, it's beautiful!
ABOUT KAURI KAPIA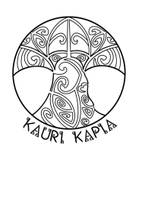 Kauri Kapia involves the whole family. A shared love of creating and desire to use locally sourced supplies as much we can, with all effort taken to limit our environmental impact.
Specialising in making functional pieces for the home from custom counter tops to serving boards, clocks to luxury bath caddy's.
Kauri Kapia welcome commissions for new projects.
---
CONTACT INFORMATION
| | |
| --- | --- |
| Facebook | www.facebook.com/kauri.kapia/ |