CUSTOMER GALLERY
Orgone Pyramids
Bea from Bea-utiful Creations makes these beautiful Orgone Pyramids which are known to have a powerful and positive vibration, offering protection against electromagnetic energies. These pyramids are cast using GlassCast 10 Resin encapsulating genuine gem chips, metals and pigments.
Orgone translates as "life force" or "Chi" and these pyramids emit a high frequency vibration, with the copper spiral at the top of the pyramid using the shape to amplify the energies of the crystals. Pyramids have been a sacred shape for thousands of years, dating back to ancient Egypt as they are said to resemble the rays of the descending sun.
Thanks for sharing them, they are bea-utiful!
ABOUT BEA-UTIFUL CREATIONS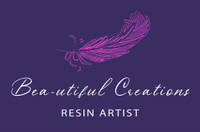 Bea hails from Lancashire and got into working with Resin purely by chance after coming across a picture of a preserved flower online.
By following some resin groups on the internet and researching and gathering information, Bea gained enough confidence to give it a try.
It was a steep learning curve, but a very enjoyable one.
---
CONTACT INFORMATION
| | |
| --- | --- |
| Facebook | www.facebook.com/Bea-utiful-Creations |